Tal como dice el título de esta entrada, la Capitana Phasma ampliara su universo a través de las recién anunciadas novela y comic.
La editorial Del Rey, nos traerá este próximo 1 de septiembre, la novela Star Wars: Phasma, escrita por Delilah S. Dawson (@DelilahSDawson) y podemos decir que la portada se ve increíble:
I'm writing PHASMA for Star Wars! Coming to you September 1. When it's up for pre-order, you'll be the first to know. pic.twitter.com/ZXvMJe0aMA

— Delilah S. Dawson (@DelilahSDawson) 14 de abril de 2017
Por parte de Marvel Comics, en septiembre se lanzara una serie de 4 numeros de la Capitana Phasma, situándose tras los eventos que vimos en El Despertar de la Fuerza y su escape desde la Base Starkiller.
Capitana Phasma es escrita por Kelly Thompson y dibujos de Marco Checchetto (a quien se conoce su trabajo por Imperio Destruido, Obi-Wan & Anakin, The Screaming Citadel.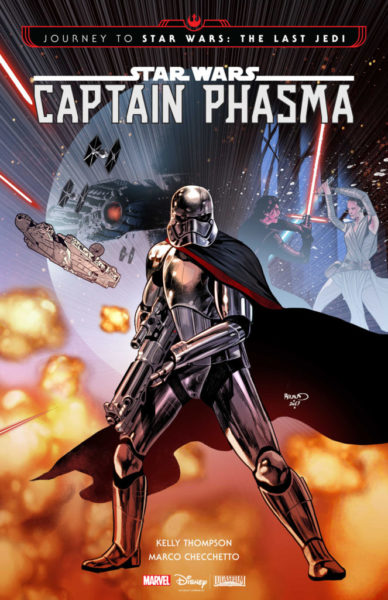 .
Comentarios
comentarios